Discard your business's outdated technology without leaving the office
As a professional, your days are hectic enough without worrying about what to do with your outdated IT equipment – and the data that's still on them.
Fortunately, you can safely discard your business's used electronics without ever leaving your workplace.
C&I Electronics travels to your location.
Our on-site collection service handles your IT assets, so you don't have to.
As a certified ITAD company, we are equipped to travel to your location and collect your outdated laptops, desktops, networking equipment and more.
Once secured in our truck, we'll transport your assets to our secure facility for data destruction and responsible recycling.
Our experience is built on reliability.
C&I has been recycling businesses' used electronics for nearly 30 years, keeping their data safe and their business environmentally sustainable.
We do this by creating customized ITAD solutions for you and your company. And that starts by providing quick and secure on-site collections.
Keep track of your assets through our customer portal. With this peace of mind service, you can follow your IT equipment through every step of the ITAD process.
C&I's ITAD service goes beyond the Midwest.
We have the experience and capabilities to service companies anywhere.
We work with local and regional companies – but we don't stop there. To accommodate our national partners, C&I offers a crate program, allowing them to ship in their outdated technology to be recycled.
To see if you qualify for this program, click the button below to fill out the form.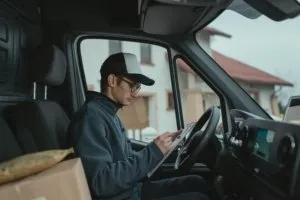 Let's talk about your equipment recycling or data destruction needs.
When your company's used IT assets are taken offline but not appropriately decommissioned, you're left exposed to potential data breaches. At C&I, we protect your company's and customers' data. We are industry certified to safely and securely destroy all information on your used electronics.